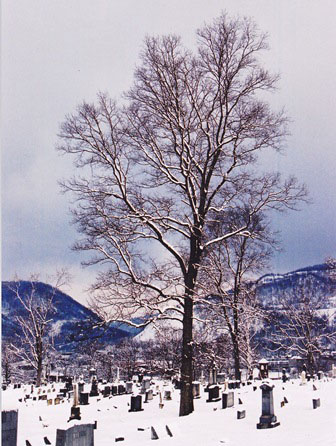 The Shamokin Cemetery
For many years Shamokin was without a suitable resting place for the dead. As the town increased in population, the want of a convenient place for internment became pressing. In 1859 the citizens
associated together and under the title of "The Shamokin Cemetery Company", petitioned the court for a charter. August 13, 1859 the petition was granted and the company was organized.
On April 28, 1860 the Company elected the following managers:
President: Charles P. Helfenstein
Vice-President; Joseph Bird
Secretary: P. Bird
Treasurer: William Marshall
On May 12, 1860 the Company By-Laws were adopted, and in 1874 permanent By-Laws were put in place.
The company had no grounds or funds to purchase grounds. William Marshall, Charles Helfenstein and William Weaver sold the company 12 acres, gave the Shamokin Cemetery Company the deed and took a mortgage on the land. William Marshall later gave the cemetery an additional 6 acres of land. The Mortgage was executed November 13, 1860 and was to be paid as the lots were sold. One half of the price of each lot was to be appropriated to the mortgage and the other half would be used for the upkeep of the cemetery. Each lot holder, as he paid the price of his lot, was to be released from the mortgage by special deed and would become a stockholder with the right to vote. One Vote was given for each lot held.
Kimber Cleaver designed the original lay out of the cemetery. He passed before the cemetery officially opened. Kimber,his wife Elizabeth and his son Raynell, Are laid to rest in Block 9, Range 3, Lot 40, of the Cemetery. His daughter Kate Heffelfinger is buried with her husband Elmer in Block 9, Range 3, Lot 37.
In 1871 the Guard of the Army Republic Circle was opened. The monument houses a stone brought from the battle of Gettysburg. Today it is known as the Soldier's Circle and Soldier's from The Civil War, World War I, World War II, Korea and Vietnam are buried there.
In 1916 The Central Mausoleum Company of Carlisle built the Mausoleum in Block 11. At the time that it was built it was the largest in the state, housing 160 crypts with a chapel and storage accommodations. Today the Cemetery has over 16,000 internments, 4 personal Mausoleums as well as the Main Mausoleum.