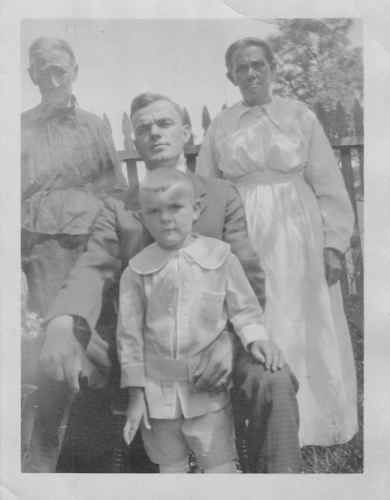 William Atwater Eveland
Wilhelmina Neidig Martin, William Atwater Eveland, Johanna Martin Eveland. Child – William Atwater Eveland Junior.

William Atwater Eveland was born July 21, 1891 to Henry Franklin Eveland & Johanna Martin. Johanna was one of Shamokin's pioneer residents and would garner respect and affection until she passed in 1938. Henry on the other hand did not have steady employment and was an alcoholic. He died from cirrhosis of the liver in 1915. The 8 children would go to support Johanna and provide for her. William Atwater was the 3rd son and had 5 brothers and 2 sisters.Known simply as Atwater, he went to school in Shamokin until 4th Grade and then would start working, mostly labor for the Coal Mines.
In 1913 he married Ima Martin and in January 1914, William Atwater Eveland Jr was born. Ima gave birth to a second son in November of 1915 named James Grey Eveland. At the end of 1916 Ima contracted tuberculosis and Atwater moved the boys into his mother's house where his sister Lizzie would care for them. In March 1917 Ima died at the age of 19 and was buried in the Shamokin Cemetery. Atwater moved back home and continued to work for the mines and Lizzie continued to raise his sons.
Atwater would become a self-educated man who loved to read, become a freemason and would do carpentry work for his brother Hobart. All of the brothers were avid carpenters and Atwater and Hobart would go on to build their own houses on Fern Street in Shamokin. (Those houses still stand today) In 1925 Atwater remarried to Miss Katie Bowman and would go on to run for the State Legislative Representative under the Republican ticket and serve 2 years, 1931 to 1932. He ran for office again in 1932, 1934 and 1936 but lost to the Democratic party.
He was adamant that his sons would graduate from high school. Atwater Junior would graduate from Coal Township (on Juniper Street) with honors in 1932. James would graduate in 1933. James would go on to serve in the military and move to Ohio where he would get married and start a family.
Atwater Junior married Ruth Dark in 1939 and would go on to have 4 boys. He passed away in February of 1969.
-
William Atwater Eveland Junior was my grandfather. I am still trying to find the 1932 Coal Township Yearbook. If anyone would be able to help me with this, please let me know.